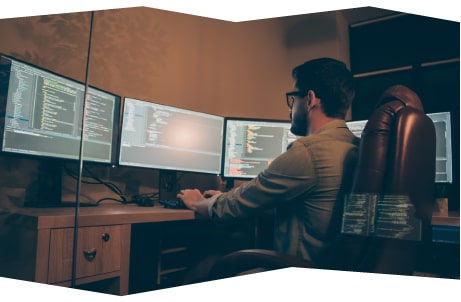 Implementing a comprehensive security and penetration testing strategy not only keeps you one step ahead of cybercriminals but also keeps you compliant. We identify vulnerabilities and misconfigurations in your cloud platforms, networks, and applications as well as provide you with the real-world business impact of those issues. Our security testing services include:
• Cloud security testing (AWS, Azure)
• Network penetration testing (internal and external)
• Dark web and open-source intelligence
• Web application penetration testing
• Mobile application penetration testing
• Static application security testing (SAST)
• Dynamic application security testing (DAST)
---
PARTNER SUCCESS STORIES
---
See how we've helped our clients protect their organizations.
---
THE STRATUS CYBER APPROACH:
HOLISTIC
Attackers do not limit themselves on their information gathering, tactics, and techniques and neither do we. We collect information from open source intelligence and the dark web and use a broad variety of tools during our testing..
ACTIONABLE
Finding a vulnerability is just the first step of testing. We dig deep into each vulnerability to prove the true impact it has on your organization and provide actionable remediations so you can stay secure.
COMPLIANT
Penetration testing is often included in several compliance frameworks. Our reporting is tailored to prove your adherence to those compliance requirements.
---
SCHEDULE A FREE CONSULTATION TODAY
---
Securing government agencies and enterprise organizations is our top priority. So, we're available whenever you need us. Schedule a consultation today with one of our security experts to receive an evaluation of your organization's security and talk through any questions you may have. It's on the house.
---