Security Automation For Everyone
Built by Security Engineers to Streamline Security Compliance Requirements
Build Once and Scale

Build a dashboard or process once, scale it with standardized data from many sources
Unlock Data

Unlock data stuck in spreadsheets, tables, lists, etc. for use in automations, analytics, dashboards, etc.
Enable Your Team

Build streamlined processes, automations, and more without deep technical expertise.
Trust Your Data

Trust that your data is consistent and standardized from different sources to different locations
Enhance Analysis

Enhance manual spreadsheet analysis with up-to-date, automated, and standardized data from many sources
Reduce Expenditure

Process only the data you need to the tools you already have and know.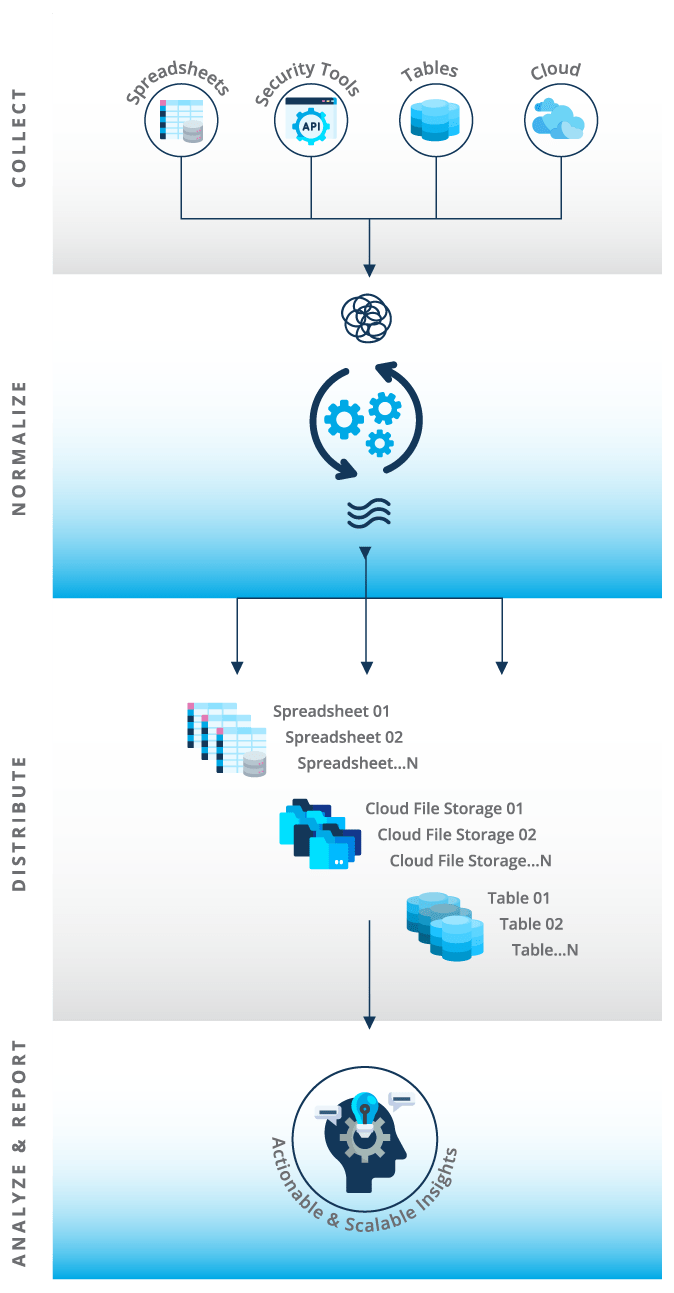 User Access Reviews
Retrieve lists of authorized users, send it to a SIEM to compare with an active user list to detect unauthorized users
Cloud Inventory Tracking
Collect and normalize inventory data from AWS, Azure, and other tools into a live Inventory spreadsheet and also route the data to a SIEM
Vulnerability Management and Reporting
Aggregate and Standardize reporting from different vulnerability scanning tools to enable streamlined and customized vulnerability management processes
Data Enrichment
Retrieve important technical and administrative data from lookup tables, manual analysis in spreadsheets, etc. and send it to a SIEM to enrich technical data
Unauthorized Ports, Protocols, Services Detection
Retrieve a list of approved services and combine and analyze it with scanning tool data to detect unauthorized opened ports
Scalable Dashboarding and Reporting
Build dashboards once and add any data sources by standardizing data feeds.